REED MS2301 Clamp-on Ground Resistance Tester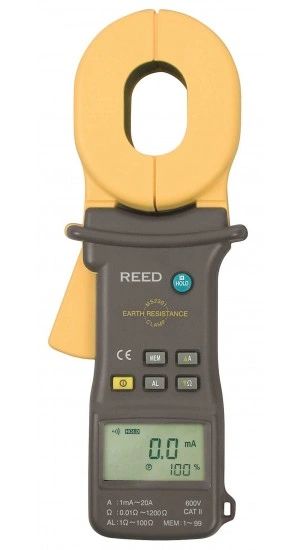 REED MS2301 Clamp-on Ground Resistance Tester
This autoranging earth resistance clamp meter measures ground resistance and leakage current. The MS2301 has internal memory capable of storing up to 99 measurements and features a double molded conductor clamp for added protection. Includes resistance calibration loop for quick on-site verification.
Features
Autoranging ground resistance and leakage current measurements
0.001Ω resolution for low resistance measurements
Basic accuracy of ± 0.01Ω
Internal memory stores up to 99 readings
User adjustable alarm threshold
Display hold function
Durable double molded conductor clamp
1.2" (30mm) jaw size for large ground rods
Low battery indicator and auto shut off
Cat. III 600V safety rating
Key Features
Accuracy of ± 0.01Ω
User selectable alarm threshold from 1 to 100Ω
Limit alarm
Measures leakage current to 1mA and neutral current to 20A
1 second sampling time
3-3/4 digit, 2000-count LCD with display Hold
Autoranging
Doubly insulated conductor clamp for extra security
Large jaws open to 1.8 x 1.3"/45 x 32mm
Includes hard carrying case and batteries
Specifications
Resistance Range: 1, 10, 100, 200, 400, 600, 1200Ω
Resolution: 0.001, 0.01, 0.1, 1, 5, 10, 20Ω
Accuracy: ±1.5%, ±1.5%, ±2.0%, ±3.0%, ±6.0%, ±10%, ±20%
Current Range: 100, 300mA, 1, 3, 10, 20A
Resolution: 0.01, 0.03mA, 0.001, 0.003, 0.01, 0.03A
Accuracy: ±2.5%
Test Voltage: 3700V max.
Power Supply: 6 x NiMh 1.2V "AAA" batteries
Dimensions: 2.1 x 4.1 x 10.9" (54 x 104 x 276mm)
Weight: 37 oz (1050 g)